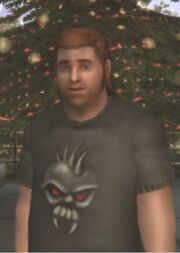 Floyd
is a deleted character from
Bully
. He was not listed in the credits, so his voice actor is unknown. Although he was removed from the game, he still exists in the data files and can be added to the game through hex editing.
Character description
Edit
Floyd is a chubby man who appears to be in his late 20s. He has red hair and green eyes, and is of average height. He wears a grey t-shirt with a metallic skull logo on it, brown chinos and black sneakers. His winter appearance is not much different, but he wears a grey beanie and a grey hoodie featuring the same metallic skull logo as his t-shirt.
Characteristics
Edit
His dialogue indicates that he works in a record store.
Removal from game
Edit
The Xbox version of Bully was to have a feature in which players could upload and buy songs through a record store; it is believed that Floyd managed that store. The Xbox version was cancelled; since the Playstation 2 didn't have the capability of uploading music the feature and the record store were cut. Floyd still remained in the data files, and through hex editing can be readded to the game as a Townsfolk.
Ad blocker interference detected!
Wikia is a free-to-use site that makes money from advertising. We have a modified experience for viewers using ad blockers

Wikia is not accessible if you've made further modifications. Remove the custom ad blocker rule(s) and the page will load as expected.