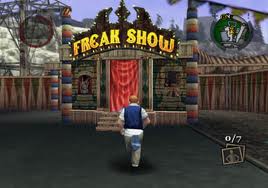 The
Freak Show
is a tent located in the
Carnival
with a collection of freaks living in their own rooms with glass protecting them.
The Skeleton Man
Edit
The Fat, Ugly, Bearded Woman
Edit
The Siamese Sisters
Edit
Midget Wrestling
Edit
Greasers
use, Lighting uses the
Preppies
boxing style. Jimmy can bet up to $100 on one of them to win.
The Crazy Painted Man
Edit
Happy Volts Asylum
. He wears only blue underwear. He constantly screams and holds on to the bars of his prison-like cage.
The Last Mermaid
Edit
Ad blocker interference detected!
Wikia is a free-to-use site that makes money from advertising. We have a modified experience for viewers using ad blockers

Wikia is not accessible if you've made further modifications. Remove the custom ad blocker rule(s) and the page will load as expected.