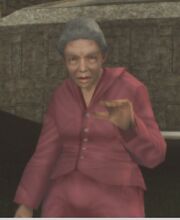 Mrs. Lisburn
is the elderly female resident of the retirement home in Old Bullworth Vale. She was voiced by the late
Dody Goodman
.
Character description
Edit
Mrs. Lisburn has white hair and a wrinkled face. She wears pink pajamas with matching slippers. She appears to be around 70 years old.
Characteristics
Edit
Mrs. Lisburn's husband has passed away, and she misses him greatly. Without having much to do in the retirement home she spends most of her time watching television and remembering the old days. She claims that her husband looked like Jimmy in his younger days, and claims to have babysat Dr. Crabblesnitch when he was a toddler. She enjoys drinking brandy and eating prune pudding.
Role in game
Edit
Mrs. Lisburn gives Jimmy a pair of errands. She first asks Jimmy to lay a bunch of flowers on her husband's grave. Later she pleads with Jimmy to help her escape from the retirement home and go to the park. After the later task, she briefly becomes kissable to Jimmy. Despite the fact that Jimmy helps her escape, she can still be found roaming the retirement home after it only and can't be found anywhere else.
Ad blocker interference detected!
Wikia is a free-to-use site that makes money from advertising. We have a modified experience for viewers using ad blockers

Wikia is not accessible if you've made further modifications. Remove the custom ad blocker rule(s) and the page will load as expected.