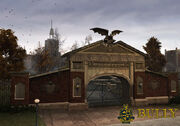 The
school gates
act as entrances and exits to
Bullworth Academy
. These are all locked in
Chapter 1
, and some of them are locked until as late as
Chapter 4
.
The main gate is the gate near the Boys' Dorm. The second is on the school parking lot, this is most likely an entrance/exit for teachers' cars.
Russell Northrop can be found here between 7:00 p.m and 11:00 p.m.
The first and second gates are unlocked in Chapter 2. The third entrance/exit is behind the Girl's Dorm, near the second gate. It takes you nowhere in Chapter 3 and Chapter 4, but to Blue Skies in Chapter 5. The fourth entrance is somewhat hidden. It is on the Observatory Track, but is in a hidden tunnel at about the halfway mark from the Library. It leads to Blue Skies Industrial Area and Happy Volts Asylum.
The school gates are locked during Chapter 1 similar to Rockstar's restricted area mechanic in the Grand Theft Auto series, where in Bully, players are expected to explore the academy first and familiarize themselves to it.
Ad blocker interference detected!
Wikia is a free-to-use site that makes money from advertising. We have a modified experience for viewers using ad blockers

Wikia is not accessible if you've made further modifications. Remove the custom ad blocker rule(s) and the page will load as expected.