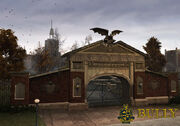 The
school gates
act as entrances and exits to
Bullworth Academy
. These are all locked in
Chapter 1
, and some of them are locked until as late as
Chapter 4
.
The main gate is the gate near the Boys' Dorm. The second is on the school parking lot, this is most likely an entrance/exit for teachers' cars.
The first and second gates are unlocked in Chapter 2. The third entrance/exit is behind the Girl's Dorm, near the second gate. It takes you nowhere in Chapter 3 and Chapter 4, but to Blue Skies in Chapter 5. The fourth entrance is somewhat hidden. It is on the Observatory Track, but is in a hidden tunnel at about the halfway mark from the Library. It leads to Blue Skies Industrial Area and Happy Volts Asylum.
Ad blocker interference detected!
Wikia is a free-to-use site that makes money from advertising. We have a modified experience for viewers using ad blockers

Wikia is not accessible if you've made further modifications. Remove the custom ad blocker rule(s) and the page will load as expected.