"Have fun, Jimmy. I'll think of you from our cruise ship."
―Stepfather
Jimmy's Stepfather
is the 5th husband of
Jimmy Hopkins
's
mother
.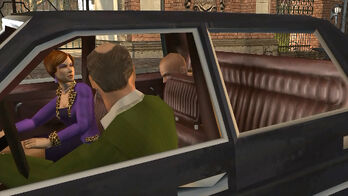 He was voiced by
Michael Cullen
.
Character description
Edit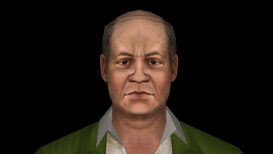 Not much of him is seen in the opening. He wears a green suit jacket over a white shirt, and is bald on top with pale gray hair. He is much older than Jimmy's mother; Jimmy goes so far as to accuse him of being twice as old as his grandfather. However, given Jimmy's sarcastic tone, that was arguably an intentional overestimation of his stepfather's true age.
In the postcard, he is depicted wearing a purple short-sleeved shirt over an off-white undershirt, with greenish-beige shorts/trousers.
Characteristics
Edit
The stepfather doesn't get much time to display his personality, nor is his true name revealed. He is a wealthy person and apparently selected Jimmy's mother as a trophy wife. It is his money that pays for Jimmy's tuition at Bullworth Academy.
Role in game
Edit
Jimmy's Stepfather appears in the opening only, driving him to the Academy, after which he disappears for his year-long honeymoon with his wife. Jimmy gets a photo of the couple on the ship after unlocking the Camera, but not on Scholarship Edition for Wii or the Anniversary Edition
During the car trip to Bullworth, Jimmy insults him horribly. After being dumped in front of the gate, he bemoans his mum's marriage to "that phony", a possible reference and/or tribute to The Catcher in the Rye.