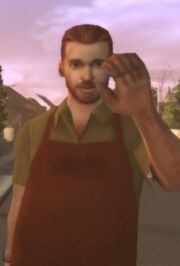 Tobias Mason
is the
owner
of
Shiny Bikes in
Bullworth Town
and
Old Bullworth Vale
. He was voiced by
Dennis Ostermaier
.
Character description
Edit
Tobias wears a red apron over a lime-green t-shirt and brown trousers with brown boots. He has red hair in a ponytail and a red full beard. He also wears a silver watch which he checks periodically inside of the bike shop.
Characteristics
Edit
Tobias doesn't appear in free roam aside from a single errand he gives Jimmy, so his characteristics and personality aren't known. His personality seems to be slightly gruff but generally friendly. He's seen talking with Ricky about bicycle parts, and he jokes with Jimmy about how crappy the trophy he won in the bike race is. Although he doesn't realize it, Tobias is quite admired by the various women around town.
He is often mistaken by fans for the bus driver. They both have red hair, and although Tobias' is a darker shade and worn much longer and they wear different clothing, that is enough to confuse some people.
Role in story
Edit
Somehow, Tobias manages to be in two places at once and run both Shiny Bikes locations at the same time.
Tobias appears to be the organizer of the Race the Vale race in Chapter 2. After Jimmy wins, he gives him his trophy before the Preps steal it in Beach Rumble. Tobias gives Jimmy an errand retrieving a stolen bike from Omar, and most notably quips, "Dude, where's my bike?", a possible reference to the film Dude, Where's My Car.
Meeting Tobias in Free Roam
Edit
After the bike errand, Tobias will ride away on the bike. Jimmy can steal the bike, which will cause Tobias to chase him. If Jimmy escapes by successfully hiding in a trash can, Tobias will begin his free roam behavior.
Alternately, jump at him and he'll get off the bike, which does not fill Jimmy's trouble meter. However, Jimmy still must escape from him.
Tobias can also be seen in the fast food errand. There, he cannot be greeted, but can be insulted.
If ignored when he's offering the bike errand, he will commence free-roam behaviour after a period of time.
Ad blocker interference detected!
Wikia is a free-to-use site that makes money from advertising. We have a modified experience for viewers using ad blockers

Wikia is not accessible if you've made further modifications. Remove the custom ad blocker rule(s) and the page will load as expected.